Truyện Kiều, 1931-1934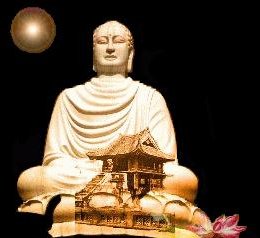 Nhân duyên đâu dám còn mong,
Khỏi điều thẹn phấn tủi hồng là thôi.
Phật tiền thảm lấp sầu vùi,
Ngày pho thủ tự, đêm nồi tâm hương.

Qu'attendre encore de l'amour humain? Pourvu seulement qu'elle n'eût plus à rougir de ses fards, qu'elle ne fût plus humiliée dans sa rose beauté. Au pied de Bouddha, enterrant sa douleur, enfouissant sa tristesse, le jour, elle remplissait ses manuscrits, la nuit, elle entretenait l'encens de son coeur.

What could she still expect of human ties?
Now she was spared one shame -- to sell her charms.
At Buddha's feet she buried griefs -- by day
she'd copy texts, light incense up at night.
Bản Nôm: Lâm Nọa Phu, 1870